Dual Plate Check Valves
The Dual Plate Check Valve is a multi-purpose valve that is stronger, lighter and smaller compared to conventional swing check or lift check valves.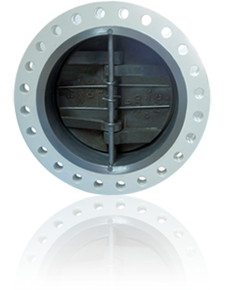 Design Features:
Separate springs are provided for each door to close. This reduces and overcomes the frictional coefficient due to one plate resting upon another. The spring life cycle is studied and the dynamic behaviour of the valve is recorded. This type of valve prevents flow reversal, functions silently and totally prevents "Water Hammer". It's generally light weight, and can be mounted in any direction (Horizontal/Vertical). Also, it has a high CV value and less pressure drop. It's designed for non-slamming action that prevents premature valve failure, and the valve functions silently for longer duration.
Applications:
Chemicals, Fertilizers, Refineries, Effluent Treatment Plant
Operators:
Automatic Spring return.
Special Features:
Rubber Lined, Soft Seated
Production Capacity: 2"-12" - 150 Nos/Month, 14" & above - 50 Nos/Month

Material

Size Range

Construction

ANSI Class

Standard

Cast Carbon Steel

2" - 36"

Wafer / Flanged,

150# - 2500#

API 6D / API 594

Cast Stainless Steel

2" - 36"

Wafer / Flanged,

150# - 2500#

Cast Iron

2" - 36"

Wafer / Flanged,

125#

BS 5351
Temperature range: -100°C to 600°C
Pressure Rating: Vacuum upto 621 Kg/Cm²
Inspection Std.: API 598
Ends: Flanged, Wafer, Lugged