Globe Valves
A Globe Valve is used for regulating flow in a pipeline, and consists of a movable disk-type element and a stationary ring-seat, in a spherical body.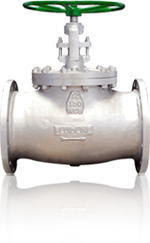 Design Features:
Designed for least possible obstruction to free flow by providing curvature turns in the body thereby minimising stresses & turbulence. The plug & seat-ring are machined and lapped very precisely to get a very tight sealing when valve is closed. Designed and manufactured to the highest standards of quality and, durability.
Applications:
Petroleum, Power Generation, Chemicals, Fertilizers, Steel Industry, Natural Gas/Fuel Oil Control, Steam Control and Feed Water Control.
Operators: Handwheel, Chainwheel, Gear Electrical Actuator, Pneumatic/Hydraulic, Actuator Operated.
Special Features: Pressure Sealed Joints/Double Block and Bleed/Cryogenic Service to BS 6364/Nace Specifications (MR-01-75), Regulating Discs for Throttling Service, Double Disc, Bypass Arrangement.
Production Capacity - 2"-12"- 650 Nos/Month - 14"-20" - 50 Nos/Month

Material

Size Range

Construction

ANSI Class

Standard

Cast Carbon Steel / Cast Aloy Steel

2" - 20"

Bolted or Pressure Sealed

150# - 2500#

BS 1873

Cast Stainless Steel

2" - 20"

Bolted or Pressure Sealed

150# - 2500#

Bronze

2" - 8"

Bolted Bonnet

150# - 600#
Temperature Range: Vacuum - 545°C
Pressure Rating: Vaccum upto 621 BAR
End to End Dimensions: ANSI B 16.10
Inspection Std.: API 598/BS 6755
Ends: Flanged/Buttweld