Butterfly Valves
A Butterfly Valve is a valve used for flow regulation in which the closing member takes the form of a disc.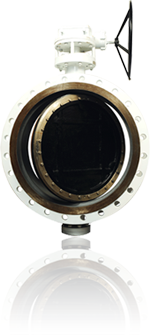 Design Features: AWWA Butterfly valves meet the requirement of AWWA C504 Standard. Corrosion resistant shaft stainless steel disc edge and are features on all valves. These valves are suitable for flows in either direction and seal in both directions. The valves can be used for both tight shut off as well as for regulating purpose. Only a quarter-turn is required fully open or close the valve.
Applications: Intake Water Systems, In Water treatment plants, Gases, Oil and Especially Corrosion Fluids.
Operators: Lever, Gear, Electrical Actuator, Pneumatic/Hydraulic, Actuator Operated.
Production Range: 3" - 12" - 150 Nos/Month, 16" & above - 35 Nos/Month

Material

Size Range

Construction

ANSI Class

Standard

Cast Aloy Steel

2" - 60"

Wafer, Lugged or Flanged, Slim Steel or Off-Set

150#

API 609, BS 5155

Cast Stainless Steel

2" - 60"

150#

API 609,
BS 5155 AWWA C 150
Temperature range: 0 to 120°C
Pressure Rating: Vacuum upto 16 Kg/Cm²
Inspection Std.: AWWA- C 504/API 598
Ends: Flanged/Wafer Type
Seating option: E.P.D.M/Nitrile/NBR/Viton